By Kat Brown, The Telegraph
Valiant Entertainment, once on a par with Marvel and DC, signs deal with China to turn their comics into movies and television
Marvel and DC will soon have a serious rival. Valiant Entertainment, the revived US comics company, is to make movies with its characters following a nine-figure deal with the China-based company DMG Entertainment.
The New York Times reports that four Valiant titles are currently in production as films, with TV shows of other comics also planned.
There are also plans for toys and theme parks down the line, which seems an odd choice given Valiant's preference for antiheroes, frequently violent ones to boot.
Dan Mintz, DMG's CEO, said in a statement that "taking a stake in the last independent massive comic universe is a strategic investment for DMG that will produce movies and TV that are both appealing and relevant to a global audience.
The deal is reminiscent of the nine-figure deal Marvel got from Disney in 2005, which has since reaped multi-billion dollar rewards.
However Valiant's deal will see it aimed at producing comic books for the Asia Pacific market, as well as films and shows for both American and Chinese markets.
Valiant was set up in the Nineties by former Marvel writers, and after a hugely successful period which saw it bought by video games producer Acclaim, fell victim to the late Nineties comics slump.
It was eventually disbanded in 2004 when Acclaim folded, but has made a recent return to health after it was bought by fans Jason Kothari and Dinesh Shamdasani, an executive at Universal who had grown up in Hong Kong reading Valiant comic books that Kothari's father brought back from trips to the US.
Shamdasani and Kothari bought Valiant's characters at auction, only for an anonymous party to make a copyright claim on the characters. After a two-year legal fight, Shamdasani and Kothari won.
In 2007, they created Valiant Entertainment and, inspired by tips from the book and film Moneyball, about how to make a successful sports team out of nothing, went about hiring disenfranchised Marvel editors and creators.
In 2012, the "Summer of Valiant" saw them launch a new and entirely rebooted Valiant title each month. The comics have been hugely successful through a combination of strong writing, enthusiasm, nostalgis and Valiant making a concerted effort to get their titles out on time, which has reportedly been a criticism at Marvel and DC.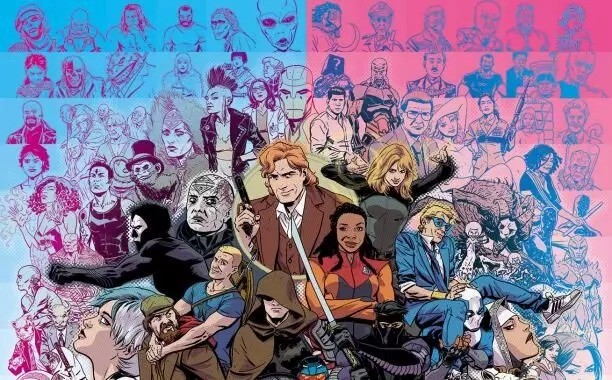 The Valiant titles Bloodshot, Shadowman, Archer & Armstrong, and Harbinger will soon make the transition to screen:
Bloodshot: a super-powered soldier with nanite computers in his blood and "the shade of grey that freedom requires"
Harbinger: disaffected teenagers with special powers
Archer & Armstrong: an immortal alcoholic and a teenage Christian assassin team up on adventures
Shadowman: a voodoo superhero with otherworldly powers